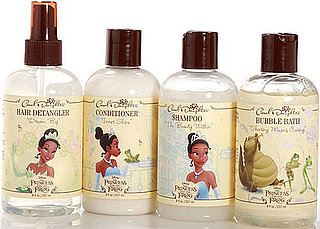 How cute is this? Disney commissioned Carol's Daughter creator, Lisa Price, to make the hair care products for Disney's new movie, The Princess and the Frog. I find this beyond cute! I know when I go into Target, I always see other "princess" products. And it's nice to see that Disney realizes that black girls have different hair and they need their own products! The collection consists of a detangler, shampoo, conditioner, and bubble bath!
The products are set to be released in October and will be available in Disney stores and Carol's Daughter's online store. I think Princess Tiana is absolutely beautiful! And I saw an extended preview earlier and fell in love (sorry no link...they swear us to secrecy!). I think this is a great idea and all of the products are $10 and below! I don't have a daughter but if I did, I buy this off GP. I want Disney to know that black products and a black princess sells! I hope to see many Princess Tianas this Halloween!
author note:
I am not turning this into a hair blog! This is like a hair, beauty, life, and hip hop blog in one. Actually some random things are coming up soon...and I hope that you enjoy them as they come!